Dubai is a top-rated destination for people who want to start a beauty salon. Many industries have recently become very popular in Dubai, one of them being the beauty industry. It is an excellent opportunity for men and women with a good business mindset.
However, it is essential to understand that starting a beauty salon in Dubai is not easy. You will need to take care of many things, and you will also need to be familiar with some basic rules of running a business in this city.
1. What is a beauty salon?
A beauty salon is the place where people improve their appearances through various treatments like facials, manicures, pedicures, and hair removal. They have gained popularity during recent years.
Although the beauty salon industry has been around for decades, the modern version of a beauty salon is not the same as in the past. Today's beauty salons offer various services that focus on enhancing one's appearance rather than making a dramatic change.
2. Why should you open a beauty salon?
Nowadays, many people are interested in opening a beauty salon. This is because they can fulfill their dream of working with people and help them improve their appearance in this way.
There are a lot of details that you need to consider when you are starting your own business, but it can be gratifying. Before you set your beauty salon in a Free Zone, make sure that this is what you want to do, and be aware of the challenges that could come with it if you create a business partnership.
3. How can you open a beauty salon in Dubai?
Some people are capable of growing an offshore company from zero. If you are one of those innovators, you should think about opening a beauty salon in Dubai.
The city has people with the same passion you have, and you could easily make a good living by providing them with your services. Nowadays, it is easy to find a beauty salon near you.
4. What are the best ways to create a business plan for your salon?
Your business plan is your roadmap to success. It is the primary way to organize and define your beauty salon startup goals, strategies, and activities. A professional beauty salon business plan will make your dreams of owning a successful business come true.
At the end of the day, this can be important to the success of your project. It allows you to outline goals, determine your customers' needs, and prepare for future situations. These tips will help create the perfect business plan.
4.1 Think about why you are creating a plan
If you do not know what you are looking for, you may never find it. The same goes when creating a business plan. You need to know precisely what you want and why you want it to identify the appropriate strategies to help you achieve your goal of business success.
Your beauty salon business plan will help you understand the market dynamics at play in your industry once you have a beauty salon license. You will also have to consider what competitors are doing and how they are doing it. If done correctly, it will bring clarity to your project.
4.2 Create a summary of your business plan
Creating an executive summary is a valuable skill used in virtually any industry. An executive summary condenses the essential parts into two pages. It takes the place of several pages of content and gives people an overview of your project.
The first step to creating an executive summary is to write an outline. Next, you will need to register a mini-report that covers all the main points of your project but with minor detail, than a regular report would. Finally, you will need to proofread and re-write.
4.3 Describe your project
If you need more clients, your company description is one of the first things you need to create. As such, it is essential to make sure that it looks professional and shows off your business in the best possible light.
A well-written company description will also help to show people what your business is about, who you help and why they choose you over competitors. Try to be specific with your services and highlight your value over the competition.
4.4 Think about your customers' needs
You could create the best service globally, but if you do not understand your customer's needs and serve them, you will never see results. Examine their life, main points, and what they genuinely want and desire.
Once you know that person well enough, you can create content and messages that appeal to them. Sales will follow when you can better connect with your ideal customer's wants and needs.
4.5 Create a marketing plan
Marketing is how companies create to gain the attention of possible customers. Your market research will give you an insight into how many people you need to target for sales, but you also need to define how you will reach them.
There are options available to help you do this. If your business is online-based, then Google AdWords and Facebook advertising should be on the top of your list. But if your business is offline, you could use social media or flyers and posters to get your message out there.
4.6 Think about your financial needs
You can find a lot of information about finance and accounting. From double-entry bookkeeping to complex accounting principles, finance may be difficult to study. It can be even less appealing for those not in accounting or finance.
On the other hand, it is crucial to understand your business financials, but it is also important to realize that they do not have to be complicated. In fact, a lot of the time, financial matters are much simpler than people think.
4.7 Keep things simple
Many business owners mistake writing long and complex business plans full of information that they will never use. Sadly, that is not useful.
The reality is that you do not need a detailed plan to create a successful business. A good plan can help you understand your company's direction and keep you on track, but it should be short enough to copy it in a notebook.
4.8 Receive feedback
It is essential to share your business plan with your work team because they are the ones who will help you succeed. They can provide the correct feedback that will make your project better. You should do this regularly, at least once every three months.
As a Free Zone business owner, you may find out that a team member disagrees with a specific part of your business plan and thinks it contradicts another claim. This is an excellent time to discuss how to solve it and reshape your business model.
5. Where to open your beauty salon?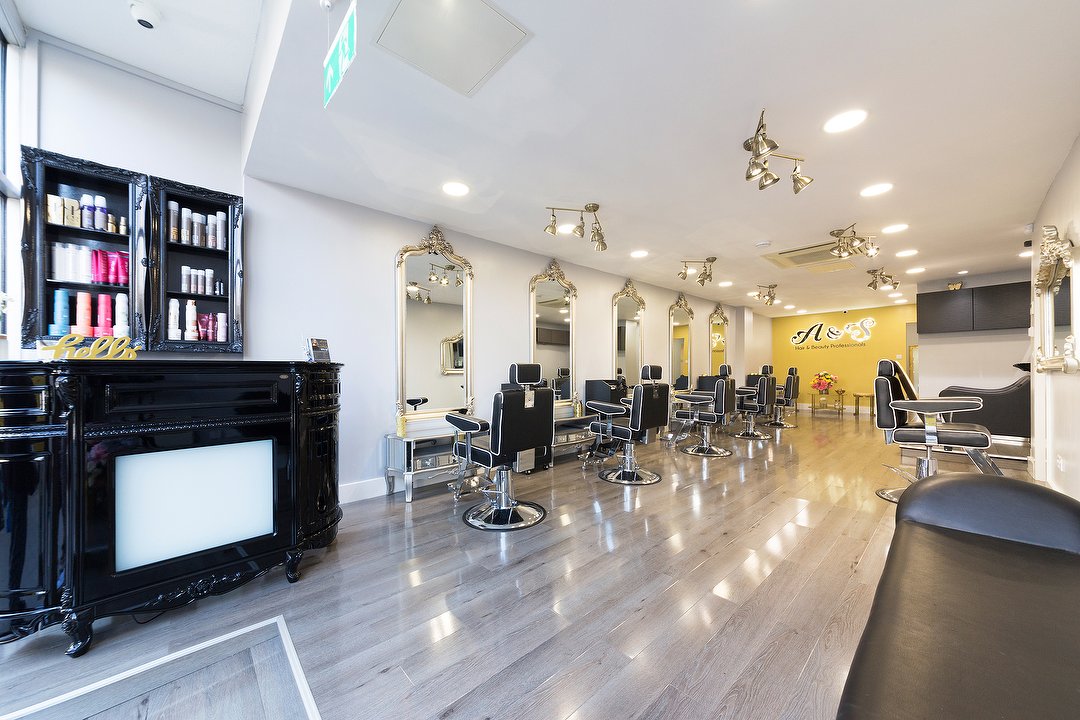 When looking to open your beauty salon, you first need to decide to receive a beauty salon license in Abu Dhabi. Beauty salons are trendy in Dubai, and there is a lot of competition for that space. In other words, you need to think carefully about which location you pick.
The first thing to think about is the traffic. People will not visit your salon if they cannot find it easily, so you also need to ensure you establish your company near other businesses and attractions.
6. What do you need to start your beauty salon?
Starting a new company is not an easy job. You need to rent a perfect place, hire staff, and get all the necessary equipment. However, you must know that there are many other things that you need to do if you want to start a beauty salon.
For example, you must make sure you have enough money to keep your salon open for more than six months. This is because it takes time to become profitable. You should also consider the expenses like electricity bills and taxes before starting a beauty salon.
7. How can you hire the right staff for your beauty salon?
An essential part of starting a business in the UAE is hiring the best people. The right staff will make all the difference in both your customer service and your bottom line. You need to hire people who have an upbeat attitude, great energy, and a work ethic.
Here are some tips to help you find the right staff for your business. With this information, you can choose the people who can help you grow your project.

7.1 Speak with different people
The hiring process is a delicate, time-consuming task that takes up a lot of resources. However, many businesses do not have the patience to go through the process correctly. They often get desperate and hire candidates who are not qualified for their position.
Even if the first candidate you interview may not be suitable, there will always be another candidate who is better for the job. It is a matter of dedication.
7.2 Think about your work dynamic
As your project keeps growing, you will need new talent. Finding this talent and bringing them on board is imperative for the growth of your business.
However, one of the biggest challenges businesses discover when hiring new employees is finding candidates who fit their team and corporate culture. This is something essential to consider.
How can you know if someone is a right fit for your company? The best way to determine whether an applicant will be a good fit is by seeing how they interact with your current employees. If you hire an employee, you may have to wait several weeks to see results.
7.3 Be careful with the background of your workers
Background check refers to investigating the details, financial and criminal records of job applicants. It is an integral part of employee screening, usually conducted by HR managers.
When hiring an employee, it is vital to undergo a background check. This step can reveal information about the job applicant that may be relevant in assessing their suitability for employment.
7.4 Prepare a good interview structure
The job interview is a decisive factor in hiring an employee. It can be complicated to create a structured interview process to identify the best candidate. To reduce stress, both parties should clearly understand what to expect and how it will work.
There are some things to consider when an employee is being interviewed. Some of these include what will the job position entail, what kind of work hours will be expected, and how much experience or training is needed for this position.
8. Is it possible to get started in the beauty industry?
The beauty industry is one of the most lucrative in the world. Unfortunately, finding an entry-level professional can be difficult because it is not easy to gain popularity. However, it is possible to know how to move forward and network effectively.
Starting a career in the beauty industry can be intimidating. There are a lot of companies to choose from and different positions available. It is important to remember that there are many paths within the beauty industry that you can take, and it is possible to get started without having experience.
Connect Middle East is helping companies around the UAE. Thanks to our experts, entrepreneurs like you see great results in their commercial activities.
Would you like to connect with us? We are capable of helping you with the legal complications of your new projects. You only need to write to our email address (contact@c-uae.com) to receive legal guidance.