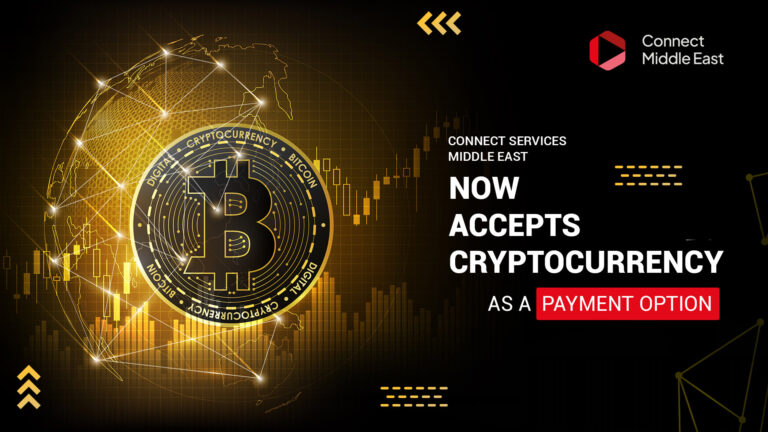 From June 2022 onwards, Connect Services Middle East will be accepting cryptocurrency payments for their company setup services. With this new movement, Connect Services Middle East becomes one of the first organizations in the region to include this popular method in their payment alternatives. Therefore, with this new addition, they expect to broaden their services to a bigger audience.
Subsequently, by accepting cryptocurrency as a way of payment, Connect Services Middle East enters a new era. Establishing themselves as a leading agency in the business sector. Consequently, providing the entrepreneurs and investors in the United Arab Emirates with innovation and technology.

The background for this decision is to make their company formation services more accessible to the public. Also, allowing international customers to have the necessary support to start a business in the United Arab Emirates; at an affordable price and as convenient as possible.
Ultimately, the main goal is to cater to as many investors as they can; so they can keep encouraging the growth of the local economy. In the same way, Connect Services Middle East is offering its influence to quicken the acceptance and development of new digital technology in the region.
This leading agency is creating new ways to help position the United Arab Emirates as a borderless business hub. Aaron Portero, Managing Director of Connect Services Middle East commented: "We are more than pleased to be helping entrepreneurs from all over the world start their companies in the UAE with no setbacks."
Connect Services Middle East Journey
Since 1998, Connect Services Middle East has been providing companies in the United Arab Emirates with company formation and secretarial services. As time passed, this organization established itself as a leading agency for service and business hubs in the region. Subsequently, building a service catalog that can suit any type of company.
In the same way, this company has been expanding all over the Middle East. Providing their business solutions, resources, and tools to Free Zone, Mainland, and Offshore companies. Similarly, Connect Middle East works beside the local government to keep the necessary compliance.
We have been working for more than two decades to help companies develop and expand. Consequently, using their experience and knowledge to provide unparalleled advice on business topics and challenge resolution. Due to this, Connect Services Middle East has become one of the most innovative and everlasting business formation business consultants in the region. Furthermore, they are constantly adding services to their catalog to help business owners streamline their operations.
In summary, due to this new development, Connect Middle East is going forward to enhance the company setup process. While also, removing barriers for international investors that are looking for ways to start their businesses in the UAE. Accepting cryptocurrency is the first step this company is taking to change the ways business setup is done in the area. In the end, protecting their client's interests and helping the United Arab Emirates economy grow is their core objective. You may have questions about how to payment for company setup services,  This is why you should contact us. Call us at +971 43 316 688 or email us at contact@c-uae.com to obtain the information you require. Contact us for enquiry regarding Company Formation in Dubai     |     PRO Services in Dubai    |   Business Setup in Dubai