Starting a laundry business in Dubai is not easy as it sounds. Before creating your own business and making a living from it, there are many things to consider.
You do not need to waste money and energy on a laundry business in Dubai that might not work out. We understand that starting a laundry business is an exciting idea, but the ideal solution is to do your research to avoid getting stuck with a failed enterprise.
1. Why start a laundry business in Dubai?
Dubai is a city of opportunities and entrepreneurship for offshore companies. The UAE has been ranked as one of the best countries to start a business in the world. In essence, Dubai has many advantages like low cost of living, a business-friendly environment, and a high-quality workforce.
Starting a laundry business in Dubai is an attractive proposition for several reasons, including the low laundry license cost in Dubai. However, it is not easy to start a project since there are strict regulations on starting businesses.
2. Is it possible to start a laundry business in Dubai?
The laundry industry in Dubai is booming, with many laundromats opening up. If you need reasons to set up your company in dubai here, keep in mind the UAE government has also been promoting the growth of this industry by providing various incentives and grants to entrepreneurs who want to open a laundromat.
If you want to know how to start a laundry business in Dubai, there are many ways in which you can do it. You can create your own company or buy an existing one and run it yourself.
3. What are the benefits of having your laundry business?
The benefits of having your laundry business in Dubai are numerous. From the financial to the social ones, there are many ways in which you can be successful as a laundry business owner. Here are some benefits of starting your project.

3.1 You can have regular customers
We live in a world where there is a lot of competition, and if you want to gain an advantage, you need to offer something unique. For this reason, after discovering how to start a laundry business in Dubai, you decided to create your project.
Your new laundry business in Dubai will become more successful attracting more customers with digital marketing. Subsequently, you will attract new clients and make more money using digital marketing tactics.
3.2 You can save money
For someone who is starting a business in dubai, the main cost is labor. The more people you hire, the more money you need to pay them. In other words, it is essential to decide on the right amount of labor and to figure out how much gains you can make in your company.
However, having a laundry business in Dubai is very simple. It offers low labor costs and simple operations. And it is easy to run, which makes it a great business idea for business owners in the future.
3.3 You can protect your time
The laundry business is a great opportunity. It is an industry that everyone uses.
Thus, if you want to see success in your laundry business in Dubai, you must learn how to set up systems and processes for every aspect of the company. From the way you receive and store your inventory to how you train your employees, you should systemize all these things to ensure efficiency.
3.4 You can have flexibility
Laundry is a fundamental need. These businesses are frequently overlooked as a source of revenue and can be started with a low investment. We are talking about the small business that people typically underestimate but can make good money if done right.
A laundry business is very flexible in terms of what you can do. For example, you can open a traditional shop. You can rent out machines or run an independent service.
4. How can you promote your laundry business In Dubai?
With the low costs of the laundry license in Ajman, many entrepreneurs have started setting up their laundry centers. Apart from having a good team of workers and equipment required for the business, you need to market your services well to attract more customers.
Ultimately, marketing is an essential part of the business day-to-day. It is necessary to get customers to buy your products, which keeps you afloat as a company.
5. Is it possible to make money with a laundry business in Dubai?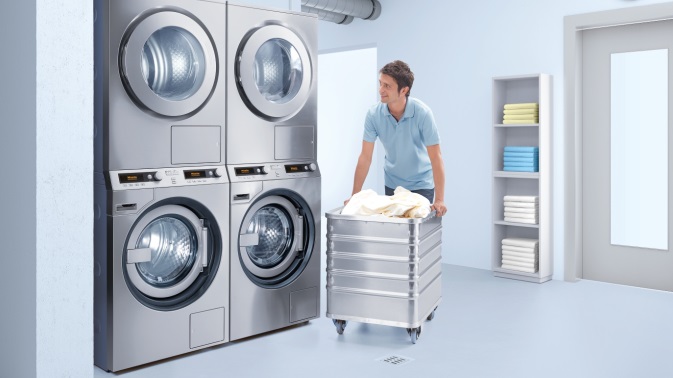 If you are looking for a business opportunity that is simple to establish and can bring in revenues, setting up a laundry business in Dubai can be wise. That is why many people are starting their projects.
The nature of the laundry business makes it easily scalable and easy to manage. It is also very flexible in location as it can operate from homes, apartments, or even commercial premises.
However, is the laundry business profitable in Dubai? You have to know the challenge for many companies is how to become known and generate leads. This section has a few tips to get you started in the right direction.
5.1 Create a website
The world is changing quickly, so even the most old-fashioned businesses have to adjust their websites. The internet has been a powerful resource for small businesses.
A website is a crucial part of any business. Without a website, your business will not attract customers and get them to buy from you. A successful website can also provide the necessary information about your company to be found easily online.
5.2 Use social media
Social media is excellent for marketing your business because of its viral nature. If you create quality content, it will be viewed by a much larger audience than if you posted it exclusively on your Facebook page.
Those businesses need to be more active and engaged in social media. These tools allow you to talk directly with your customers and get feedback on improving your services.
5.3 Create useful content
Content marketing is an effective way for brands to reach consumers and increase brand awareness. When done correctly, content marketing can be an excellent tool for engaging with potential and current customers. However, simply creating content is not enough to get people talking about your brand. After all, reaching your target audience on social media is the key to spreading brand awareness.
Content is a powerful tool regardless of the type of business you are running. This can be a video, a blog post, or something else. It is worth publishing as long as it is relevant to your potential customers and provides value.

5.4 Learn how to use SEO on your website
SEO is a great way to increase traffic to your website and social media accounts. However, you need to have a plan. You have to know how to optimize your website and your social media accounts properly, so they rank high in search engine results.
Does this sound difficult? Nowadays, it is not. If you learn enough about SEO, you will write content that ranks high in search engines.
5.5 Write a press release
Writing a press release is essential for businesses of all sizes. You can use a well-written press release to inform readers of a new product, promote your business to the local community, or build awareness of your business in general.
When writing a press release, keep the text relatively brief and focus first on the most critical information. You should also be sure to include contact information so that readers can get more information if they are interested.
5.6 Be part of a community
Social media is the best way to market your business online, but it can be challenging to build a following or even get anyone to listen to you on social media. This is especially true if you do not have a vast audience.
Joining an industry-specific online community gives you access to like-minded people who are interested in what you have to say. You get access to thousands of followers that want to know what you do and how your business can help them.
On the other hand, this also allows you to network with other professionals in your industry, which gives you more business opportunities than working alone. You can use this to grow your company.
5.7 Use paid ads
Buying ads can work well if you have a clear goal in mind. Some social networks only let you promote your page, not posts, so make sure you know where you want to appear before you start spending money.
Buy ad space on other blogs and websites to promote your business. When you buy an advertisement, you can reach a broader audience of people who are likely interested in the same things as your company.
5.8 Use discounts
Discounts are used by almost every brand to attract new customers and spread awareness of their products. They can be used in many ways and can be a part of multiple strategies that help any business grow.
A discount is something that encourages a customer to make a purchase. This could be a simple "50% off" or "buy one and get one free" promotion, or it can be set up as a reward system for customers who spend more money with you.
6. What are the costs of starting a laundry business?
Setting up a laundry service needs expertise and professional equipment. Usually, the costs of setting up a laundry business in Dubai vary depending on the size of your business.
Nowadays, you can discover new things once you know how much it costs to start a dry cleaning business. For example, if you are interested in creating a laundry in your home for a small-scale enterprise, then the cost for setting up will be low compared to the commercial laundries where space is higher.
7. What are the challenges of starting a laundry service in Dubai?
The laundry industry is highly competitive, so many want to know about the laundry license cost in Sharjah. It is usually not profitable for new businesses and entrepreneurs to enter the industry without preparation.
In other words, this industry requires the same skills as operating a restaurant or other retail store. A customer must be willing to come into your shop, sit down, and wait for their laundry to be done.
A laundromat owner must know how to run a small project. Staff must be on time, organized, friendly and trustworthy. You will also need to have high-quality equipment that runs well and is safe for customers.
8. How do you find an ideal location for your laundry business?
Choosing the location of your laundromat is one of the most important decisions you will make. Like many future owners, you may not have much experience choosing the right place, but there are several factors to consider.
The first thing to consider is there is enough traffic in your area to support a laundromat. If you plan to open a small business, look for areas that receive heavy foot traffic daily, such as a mall or an outdoor shopping district.
Connect Middle East is a leading consultancy firm whose services are aimed at helping companies understand and embrace the opportunities in the Middle East. Our team provides comprehensive assistance to those who need help with their legal obligations, such as visa services.
Would you like to contact us for more information? We are a team of lawyers from the UAE with experience in drafting contracts. Our clients include individuals, organizations, and businesses. We can help you with legal matters if you contact us using our number (00 971 433 16 688) or email (contact@c-uae.com).