Many people are starting to notice the potential of having a cloud kitchen in Dubai. This is especially true in countries where living costs are high, and people appreciate good food. With this in mind, starting a cloud kitchen could be a lucrative business opportunity.
In this article, you will discover the information you need to know to start a cloud kitchen in Dubai. This concept involves preparing and delivering meals from a central location rather than an actual restaurant.
1. What is a cloud kitchen?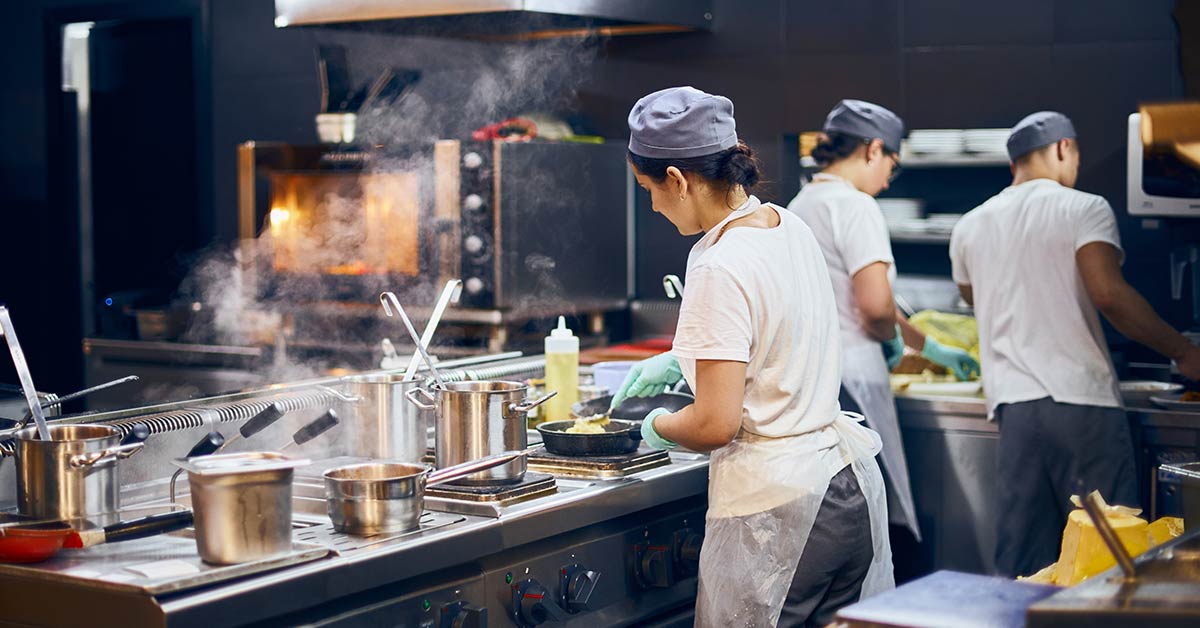 Cloud kitchens are a new and evolving idea in the food sector. They are small kitchens, usually managed by chefs who know about Dubai's cloud kitchen setup cost. This structure has a significantly lower price because there is no requirement for an extensive physical building.
Because of their increased flexibility, cloud kitchens have grown in popularity among restaurants and meal delivery businesses. You can use a cloud kitchen to test a new menu item or a new cuisine without committing to a full-fledged restaurant. They are also perfect for delivery services since they can be swiftly scaled up or down based on the owners' needs.

2. Do you need a license to have a cloud kitchen?
Opening a cloud kitchen in Dubai can be a lucrative business venture. However, to do so, you will need to obtain two licenses from the Dubai Municipality: a trade license and a food license. The first one will allow you to operate the cloud kitchen as a business, while the latter will allow you to prepare and sell food. Here is a more detailed explanation:
A trade license in Dubai is an essential tool for businesses that wish to conduct business in and out of the country. Acquiring one may be time-consuming and complicated, but the benefits are well worth it. With a trade license, you will be able to easily import and export commodities and engage in several commercial activities that will help your company grow.
One of the most crucial things to do when starting a food business is to obtain a food license. This document demonstrates that your firm sells high-quality food that fulfills all of Dubai's safety and sanitary regulations. It also indicates that you have the expertise and skills to manage a culinary business, essential to have a cloud kitchen Dubai license.
3. Benefits of creating a cloud kitchen in Dubai
Dubai is a city that is continually changing. There is always something new to discover here, from its stunning skyscraper to the never-ending expansion of its borders. With steady development comes an ever-increasing demand for food, so having a cloud kitchen Dubai license to start your project is essential to take advantage of this. Here are just a few of the benefits of establishing one in Dubai:
3.1 Fewer expenses
Cloud kitchens are becoming increasingly popular because it has fewer expenses than traditional establishments. You do not need to lease or own a physical location, recruit and manage workers, or buy and inventory equipment and supplies with a cloud kitchen in Dubai.
You need to create a menu, develop recipes, and set up a delivery or pick-up system. Cloud kitchens are ideal for entrepreneurs who want to open a restaurant but lack the time or financial resources to invest in a traditional brick-and-mortar facility.
There are several reasons why it is good to cut your company's expenditures once you have a Cloud kitchen license. The main reason is that it will assist you in becoming more profitable. When a company is prosperous, it may reinvest its profits in new initiatives and products that will help it develop. Additionally, cutting costs may help you save money, which you can utilize to build your organization or keep it afloat during difficult times.
3.2 Less space
Cloud kitchens are becoming increasingly popular throughout the world, and if you are aware of the cloud kitchen setup cost in Dubai, you know this happens for good reasons. They are an excellent method to utilize tiny spaces to establish a food-producing area. They not only take up significantly less room than a standard kitchen, but they also have several other advantages.
This is ideal for companies looking to enter the food sector without investing in a lot of space or equipment. They are also suitable for meal delivery services since they can be quickly set up in a single place and produce food for several eateries.
At the end of the day, starting a cloud kitchen in Dubai can be a very cost-effective way to save money. People can create many food businesses for relatively little capital, and with a small amount of effort, these businesses can generate a significant amount of income.
3.3 You only need a few workers
You need a business that can create money fast and effortlessly as a small business owner. The cloud kitchen is a low-cost, easy-to-start business suitable for a small business owner since it takes minimal capital and only a few employees.
A cloud kitchen in Dubai does not require a considerable staff. In reality, four or five people are enough. Even if you only have one person, you can manage a modest cloud kitchen. Starting one is simple if you know the fundamentals and have the equipment.
There are several reasons why having a small workforce in your organization may be a wise option. It might be easier to manage and keep track of your staff when you have fewer of them. Paying fewer workers may also be less expensive, and you will have less paperwork to deal with once you have to know how to deal with the cloud kitchen setup cost in Dubai. Furthermore, having fewer workers makes it easier to train and keep them up to date on corporate rules and procedures.
3.4 You can pay attention to your work
The meal delivery sector is thriving, and it will only grow with the presence of cloud kitchens. These kitchens are operated by delivery-only restaurants with no physical presence. Owners need a cloud kitchen Dubai license to prepare the meal in a central kitchen and distribute it to customers.
This approach offers several benefits for both the client and the establishment. This implies that their meal will be delivered fast and efficiently to the client. And it means that the restaurant can focus on making beautiful meals rather than worrying too much about rent and employees.
No matter how well you market your restaurant, you will not be successful if the food is not good. Restaurant owners need to be careful with Dubai's cloud kitchen setup cost and create great food that their customers will love.
3.5 You can reach more clients
You may reach a worldwide audience when you host your cloud kitchen on digital platforms. Anyone with access to the internet can be your customer regardless of location. This provides you with a significant edge over traditional eateries, constrained by their physical location and the lack of a cloud kitchen Dubai license.
Furthermore, cloud kitchens enable tracking food sales and inventory in real time. This allows you to identify better which foods are selling well and which should be changed or eliminated from the menu.
When it comes to your restaurant, you need to know which plates are selling. This is significant for several reasons. For starters, you must ensure that you order the exact amount of each item. Second, you will observe which things are selling well and which aren't. Finally, it will assist you inappropriately adjusting your costs.
3.6 You can reduce risks
Cloud kitchens are getting increasingly popular and for a good reason. They provide a low-risk platform for restaurants to experiment with new dishes and increase profits. This is a significant benefit for current restaurants since it allows them to experiment with new recipes without investing in a physical site or culinary personnel.
A cloud kitchen in Dubai is also ideal for entrepreneurs who wish to open their restaurants but lack the necessary resources. They may hire a cloud kitchen and begin preparing their concoctions. This is an excellent way to get your feet wet in the restaurant industry without danger.
Risks are an inherent part of starting a business. You will never be 100% sure that your idea will work, no matter how well you plan or how talented you and your team may be. That is why it is essential to reduce the risks as much as possible to minimize the chances of your business failing.
3.7 You can make more earnings
Cloud kitchens are a trending business model in the food industry. This setup allows restaurateurs to save on the cost of renting and equipping their own kitchen space. It also enables them to offer a wider variety of menus at a lower price.
This business model has several advantages over traditional restaurants. In Dubai, a cloud kitchen can offer cheaper menus because they do not have the high overhead costs of a standard location. They can also serve more types of food because they do not need a large kitchen with specialized equipment. And since they do not have a physical location, they can scale up quickly to meet demand.
There are a few options for meeting consumer requests in a cloud kitchen. One method is to offer a varied menu with something for everyone. You may also offer daily specials or a buffet to give guests more options. You may also provide quick service so that consumers do not have to wait long for their food. Finally, you can maintain the cloud kitchen clean and well-organized to look nice.

3.8 You can receive orders from other apps
The online food delivery business is creating a trend in Dubai, with a host of startups, both small and big, enjoying the benefits of creating their projects in this business hub. This is mainly because of the growing acceptance of online food delivery among consumers.
As a cloud kitchen startup, you will receive orders from third-party food delivery apps. This is a good thing because you do not have to spend money on marketing or customer acquisition. The best thing you can do is deliver great food and superior customer service.
There are several important benefits to not having to spend money on marketing. For example, not spending money on marketing gives a company more flexibility over its budget and how it spends funds. It may also help a company focus on its branding and messaging, which may help them attract customers.
4. What is the best place to start your cloud kitchen business?
If you want to establish a cloud kitchen business, you will discover that doing so in a residential neighborhood is more manageable. People who live in condominiums cannot make meals too often; therefore, you will have more prospective clients in a residential neighborhood. A cloud kitchen business in a residential community will also benefit from the foot traffic that is present.
Furthermore, establishing a cloud kitchen business in a home location is sometimes less expensive than installing one in a commercial region. This is because retail locations frequently.
5. Equipment you will need for your cloud kitchen Dubai
As an entrepreneur, you know that the equipment required for your cloud kitchen will be determined by the type of cuisine you intend to offer. If you want to make basic meals like sandwiches, salads, or pizzas, you will not need much more than a burner or oven; however, if you wish to serve a greater variety of foods, you may require a commercial-grade kitchen with more specialized equipment. Some of the most crucial ones for a cloud kitchen include:
Commercial ovens
Commercial stoves
Industrial refrigerators and freezers
The equipment you pick when beginning a cloud kitchen is one of the most crucial decisions. This is because the quality of your equipment will impact the quality of your cuisine. Customers will return only if they are regularly satisfied with your cooking.
That is why investing in high-quality kitchen equipment is critical. This will improve the flavor and appearance of your food, but it will also save you money in the long term. Cheap kitchen equipment is typically unreliable and breaks down, causing delays in your production schedule.
6. What would be rent of a cloud kitchen in Dubai?
Cloud kitchens in Dubai offer a revolutionary solution for the food industry. These fully-equipped, commercial-grade kitchens are available for rent, providing a cost-effective and efficient way for chefs, restaurants, and food delivery businesses to prepare and cook their dishes without the expense of a traditional brick-and-mortar restaurant. Cloud kitchen spaces in Dubai come with state-of-the-art facilities, including ovens, stovetops, refrigeration, and workspaces, enabling businesses to meet the growing demand for food delivery services. With a variety of kitchen sizes and locations to choose from, renting a cloud kitchen in Dubai is a smart and flexible choice for entrepreneurs looking to enter or expand their presence in the food delivery market.
The rental cost for a cloud kitchen in Dubai can vary widely depending on several factors, including the location, size of the kitchen, facilities, and the duration of the rental. Here are some general guidelines:
Location: Cloud kitchens in prime locations or areas with high demand tend to have higher rental rates compared to those in less central areas.
Size: The size of the cloud kitchen space significantly impacts the cost. Larger kitchens with more equipment and workspace will naturally have higher rent.
Facilities: Kitchens equipped with advanced appliances and technology may command a premium in rent.
Duration: Short-term rentals (daily or weekly) might be more expensive on a per-day basis compared to long-term contracts (monthly or yearly).
7. How can we help you with your new business in the UAE?
Starting a new business is risky, but you can reduce certain risks when you rely on consultants who better understand the market. Additionally, entering the food business can be incredibly lucrative, especially in a highly transited area where good food is always in demand.
This is why we recommend that you count on the help of experts to secure success for your new business ventures. On the other hand, agencies like Connect ME can help you with other food business models. With us, you can also learn why the food truck business is important and how to carry out this company formation process.

Are you in search of the best business setup agencies? Call us at +971 43 316 688 if you would like to hear about our packages. In addition, by writing us an email at contact@c-uae.com, you will obtain detailed information about why and how we can help you. Contact us!