The medical equipment trading license is an essential commodity, and as such, you should treat it with care. However, there are rules and regulations to ensure that the equipment is used correctly.
In this article, we are going to take a look at the medical equipment trading license. This license is necessary when importing medical equipment in Dubai. In fact, the owner must obtain this type of trading license before importing any goods.
1. What is a trading license?
A trading license is a permit granted by the government that allows a company to trade certain goods. A trading license in the UAE is an authorization to commence and carry out the business of trading here.
The holder of a trading license can import certain goods and operate commercial establishments. Besides, the holder can engage in other commercial activities to work here. You can obtain a medical trading license from the DED. Once you have that license, you can start with the activities related to your business and generate new sources of income for you and your project.

2. What types of trading licenses are in Dubai?
You have access to the trading licenses in the Dubai Land Department. These are necessary for trading in real estate. In fact, there are four types of trading licenses:
2.1 Commercial license
A Dubai commercial license is authorization from the government to carry out commercial activities in Dubai. The commercial license is the legal document that allows a company to start its commercial life in Dubai.
2.2 Professional license
The professional license is issued to qualified individuals to practice a profession. To qualify for a license, you must have a degree in undergraduate or graduate education. This has to be under the approval of the Ministry of Education of the United Arabic Emirates.
2.3 Industrial license
An industrial license in Dubai is essential for any company interested in doing commercial activities. It is a legal document that you can get from the Department of Economic Development (DED), and you can renew it every year.
The industrial license in Dubai can only be acquired by companies that have a valid trade license by the DED. Besides, the company has to fulfill specific requirements to obtain these documents. For example, you need to have a particular location and an operational plan.
2.4 General trade license
A general trade license in Dubai allows businesses to engage in various commercial activities. The kind of activity that a company wishes to engage in will determine the specific requests they need to follow. As a result, the general trade license is perfect for small businesses.
3. How to obtain a trading license in Dubai?
The first requirement is to fulfill the minimum capital requirement of AED 500,000. This is the essential requirement for the trader to start their own business. The second requirement is that you must be over 18 years old and have a valid UAE residency visa or an Emirati passport.
Besides, you need to be fluent in languages. You need to speak Arabic and English at a minimum level of proficiency. You also need to provide your company name, telephone number, and the type of goods or services you offer.
4. What are the advantages of having a trading license?
A trading license is necessary for any company that trades goods. It is also crucial for any company that offers financial services or advice. On the other hand, the benefits of having a trading license are as follows:
4.1 Boost international and local trade
With a general trading license, you have the opportunity to start manufacturing or importing the services of your business. Whether you choose to sell locally or abroad, you can likely dominate the market with a bit of effort and experience. Besides, you will be able to make good earnings in one way or another.
4.2 Increase customer trust
Many companies are willing to bend the rules to increase their profit margin. Meanwhile, other companies stay well within their legal boundaries. Customers who trust a company could create a loyal fan base.
Likewise, the medical trading license helps the business gain a strong reputation and improves its reputation inside the market in which they operate. That increases its exposure and ensures a better customer base.
4.3 Enjoy tax benefits in your business
One of the many reasons business people want to move to Dubai is the few tax incentives. Most countries require entrepreneurs to pay significant taxes, but Dubai does not.
Since Dubai barely has taxes, those who trade can increase revenues. With this, you can reinvest the money you gain thanks to your company.
4.4 Easy set-up process
Getting a Dubai trade license is much faster than the other business licenses in the United Arabic Emirates. Besides, Dubai's trade license processing rates are cheaper than the licenses from other countries. This means you can typically set up a new business in just a few weeks.
On the other hand, this also allows you to handle your own business in any free zone or Mainland. Once you have your license, you do not need to submit any paperwork. This saves a lot of time later.
4.5 Sponsor opportunities
One of the most important things about getting a medical trading license in Dubai is to sponsor family members or employees. You can bring with minimal effort to Dubai if that is what you want.
The fact that you can obtain a trading license and support your employees and family is helpful for many owners. By bringing them to Dubai, you will have more help and support.
5. Why should you apply for a medical equipment trading license in Dubai?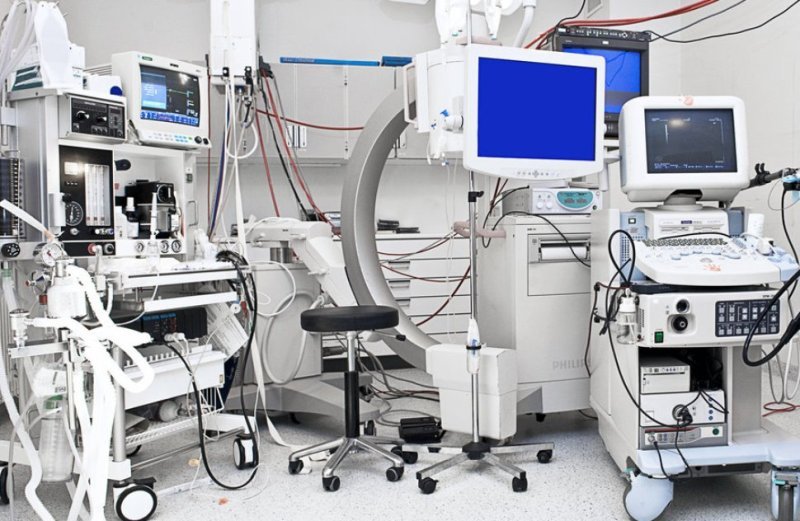 When the COVID-19 pandemic started, hospitals need more medical equipment than ever. Since that moment, the demand has only grown, and it is not likely to go down anytime soon. Hospitals and medical professionals need quality medical equipment to continue to work successfully and help residents and visitors.
If you want to set up a medical equipment company, you need a medical equipment trading license. In addition to this, the government offers many other benefits to companies that want to thrive in the United Arabic Emirates.
6. What are the requirements to have a medical equipment business?
With a medical equipment trading license, you should have a good understanding of the medical industry. Besides, it is crucial to know the environment and the market dynamics. The requirements for this license are:
Get approval for all medical devices with UAE MOH Drug Registration and Control Department.
Fill out the application form and get it signed and stamped by the company's top official.
Issue an original attested letter to a local establishment, giving them the right to submit the application files on their behalf to the Drug Department and Distribution Rights of the UAE
Acquire a valid ISO certificate
Submit a detailed company description
Attach a list of products created or assembled by the company
Acquire a manufacturing license from the competent regulatory body in the country
Once you have gone through the medical equipment trading license procedure, you can expect the Ministry of Health to give you a registration number. Accordingly to this Ministry, this will last five years.
7. Which license is necessary to trade medical equipment?
To opt for a medical trading license in Dubai, you must apply for a commercial license and register your business on the mainland. The Dubai Department of Economic Development (DED) is an authorized issuing authority for Dubai mainland businesses.
However, to set up a business in the city of Dubai as a foreign national, you need to register it as an LLC (Limited Liability Company). For this, you will need to partner with a local sponsor from the UAE. This will make things easier for you while creating your own company.
8. What are the steps you need to follow to start a medical equipment business in Dubai?
Setting up your own medical equipment company in Dubai requires permissions and approvals related to the company's registration with the UAE Ministry of Health and Prevention.
Besides, you will need the application for your medical trading license. If you are thinking about starting your own company in Dubai, follow these steps:
8.1 Obtain initial approval from the DED
First, the medical equipment industry typically requires obtaining initial approval. Usually, this comes from your state's health department. The specific requirements for this process vary by state, but they typically include registering your business with the state.
This demonstrates that you have the required knowledge and experience to operate the business. You may also be required to post a bond or insurance policy to protect patients.
8.2 Get your trading name approval
When you opt for a medical equipment trading license, you have to protect your brand and intellectual property. One way in which you can do this is by registering your trade name with the Department of Economic Development (DED).
The DED will review your submission and know if your proposed trade name is available in the UAE. They will also provide you with a trade name approval certificate. You will need this to register your business with the Commercial Register.
8.3 Present an MOA (Memorandum of Association)
This document is a public record filed with the state and identifies its officers and shareholders. It also outlines the company's purpose and structure. In most cases, your company's name will be automatically reserved for you when you file your trade name.
8.4 Rent a place to start your business
Starting a business is hard. Renting the space that comes with a trading license can be a great way to maximize your success.
There are some benefits you can gain when you start your business in this way. For example, you will have a space ready for you to use. You will also have the tranquility of knowing that you comply with all local laws and regulations.
8.5. Submit the contract
Before you have a property and have negotiated the terms of the tenancy contract with the landlord, be sure to submit the agreement and Ejari number. The Ejari number is a unique identifier for your tenancy contract.
Of course, it is required to register your lease with the government. You can apply for an Ejari number online or in person at any Dubai Land Department branch.
8.6 Obtain a license to operate your company activities in Dubai
Finally, after following all the steps, your company must be ready to operate with your medical equipment trading license. This license offers assistance for all professionals in the medical area, and it is essential for the success of your business.
9. How can we help with your medical equipment trading license?
Legal assistance is an essential service for businesses of all sizes and industries. At Connect Middle East, we provide legal advice and assistance to clients in the UAE.

Would you like to learn more about how we can help you? Contact us to find out everything about our services and how we can help your business grow. Our phone number +97143316688 and our email contact@c-uae.com are available for you at any moment.